What Is An Infrared Sauna?
Advancements in heating & light technology have brought us Infrared Light, an invisible spectrum of light consisting of near, mid and far light rays. These warming rays penetrate the body at different depths, gently and safely heating the body from within. The result is a deep, detoxifying sweat at the cellular, organ and skin levels, where the majority of toxins reside. The sauna temperature remains warm, yet comfortable, and not overwhelmingly hot.
At PEAK LIFE Holistics, we've offer this innovative technology to aid in detoxification and rejuvenation. Schedule your session today at our Private Wellness Studio in Somers!
Sweat, Detox, and Relax In Our Infrared Saunas in Somers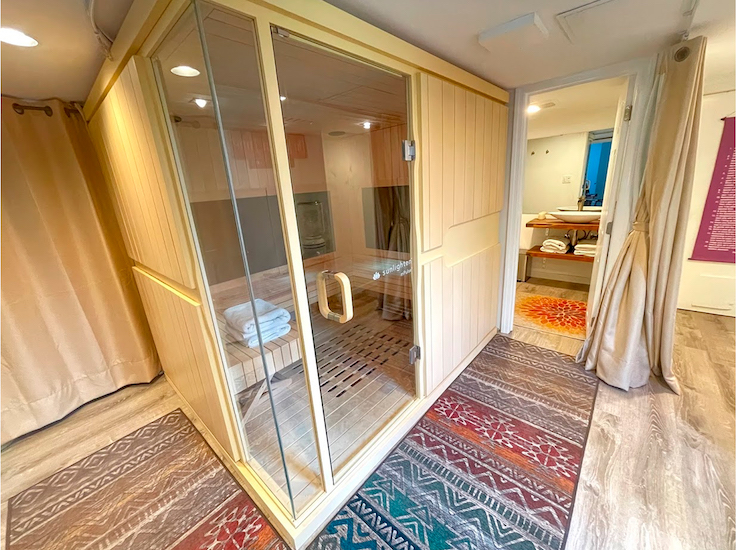 Sunlighten Full Spectrum Infrared Sauna
Our Main Sauna is a Sunlighten MPulse Sauna. This is a Full Spectrum Infrared Sauna with low EMF technology, which comfortably seats between 1 to 4 guests. We provide you with charged electrolyte water to stay hydrated and replenish lost minerals, and finish with a refreshing spa shower.
Bring a friend or family member for just $25 additional.
Full Spectrum Pop-Up Sauna
Our Full Spectrum Infrared Personal Pop-Up Sauna is for one person, looking to sweat quickly (and perfect if you like keeping your head out). It features a chair inside to relax on, Tourmaline Gemstone heating panels to bathe your body in Full Spectrum Infrared Frequencies, Negative Ions, built-in Red Light Therapy, and a Bamboo Grounding Mat. Start with a glass of warm water, and then relax and sweat. We provide you with electrolyte water to stay hydrated, and finish with a refreshing spa shower.
The Benefits of an Infrared Sauna Detox Session:
Full Body Detox from Heavy Metals, Toxins and Drug Residues
Boost the Immune System
Increase Blood Flow and Circulation
Deep Tissue Relief from Increased Blood Flow
Reduce Inflammation
Stimulate Metabolism
Burn Calories and Stored Fat
Release Toxins Stored in Fat
Reduce Blood Pressure and Stress
Cultivate a Sense of Well-Being and Relaxation
Enjoy a Youthful, Radiant Glow
Relax and Rejuvenate at PEAK LIFE Holistics in Somers
Sauna Detox Sessions are available to book for 30, 45, or 60 minutes. We suggest bringing a travel mug and drinking several glasses of water before, during and after your session to make the most of your detox and stay hydrated. Bring your own towels or use ours, and feel free to rinse off in our spa shower afterward. Book your session solo, with a date or friend, and start feeling your best.
Just fill out the short form on your screen to get in touch with our Somers team and book your session today!